Letter from the Board
As a homeowner in Cumberland Woods Subdivision, you automatically become a member of the Homeowner's Association. The Board of Directors of the Homeowner's Association is an elected body, by vote of the homeowners, that works together to ensure that the Cumberland Woods deed restrictions and by-laws are being met.
As Cumberland Woods Subdivision homeowners, we have joint ownership of the Subdivision property. The Homeowner's Association is responsible for improving and preserving the grounds and other common elements, as well as securing property, liability, and other insurance coverage for occurrences within the common grounds. The Homeowner's Association is also responsible for selecting the services to the common areas, such as maintaining and managing the grounds.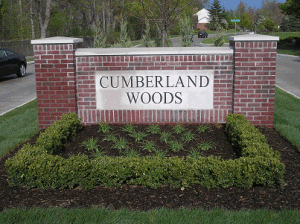 The Cumberland Woods HOA elects a Board of Directors from our homeowners and delegates to the Board of Directors the authority to administer our Homeowner's Association business responsibilities. Your personal interest, involvement and membership in our Homeowner's Association committees are essential to "make it happen". Our homes and common areas are only what the residents and the Association makes them.
One of the fundamental purposes of the Homeowner's Association is to develop and enforce subdivision By-Laws, which in turn will enhance the ownership property values for all residents. Subdivision Deed Restrictions supplement the subdivision By-Laws and are the documents that provide the legal basis for protecting each homeowner's investment and for providing the framework within which we can all live in harmony in our neighborhood. It is hoped that you, the homeowner, will recognize and accept the Subdivision By-Laws and Restrictions. These documents should be viewed as the tools needed to keep our subdivision a pleasant living environment for all residents. Please see a copy of our By-Laws by clicking here.
Cumberland Woods is a large subdivision located within the city of Rochester Hills. It is comprised of 168 homes, and stretches from Livernois Road to the west, Cumberland Hills Subdivision to the north and M59 to the south. Along with those 168 homes, we have a retention basin situated in the south east corner of the subdivision. There are sidewalks throughout the entire subdivision on both sides of the road making it safe for adults and children to walk, jog and dog-walking all-year-round. We also have the Cumberland Woods wetlands -- located to the west of Lake Ridge Road and East of Woodlands Drive.
It is our hope that you and your family will enjoy living in Cumberland Woods, and we hope that this website makes your introduction to your new neighborhood a little easier. Please do not hesitate to contact me; or any Board member with any questions or comments you may have. Future communication will be made mostly via our website, annual newsletter and the annual meeting / report sent out each spring.
Regards
Cumberland Woods Homeowners Association